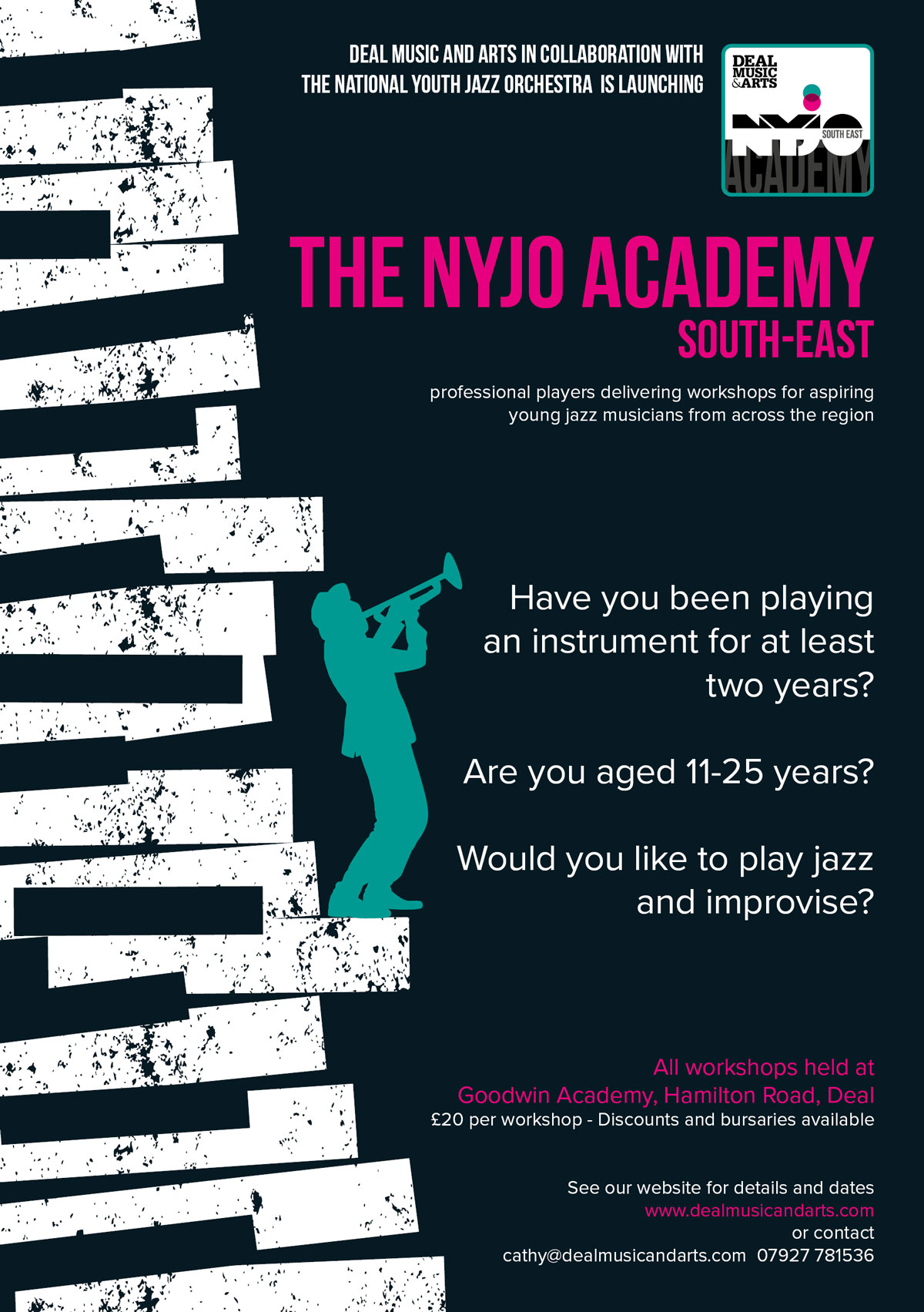 Click for downloadable application form
NYJO Academy South-East. What is it?
We are proud to host the NYJO Academy South-East here in Deal, in a dynamic partnership between the National Youth Jazz Orchestra and Deal Music & Arts.  This brings the very best in jazz education to our corner of the country, fostering and nurturing new talent.
The Academy provides regular opportunities for young musicians in the region to learn about all aspects of jazz performance. Workshop days are held during school holidays and the sessions focus on such elements as small jazz ensemble skills, improvisation, harmony and ear training, group composition and ensemble leadership skills. As the academy gathers size and momentum, there are also plans to introduce a big band ensemble for some of the more experienced players.
Using a mainly repertoire-based approach, the participants work on one or two songs each session, tackling a variety of strategies for interpreting the material. There are no restrictions in terms of instrumentation or standard, although it is recommended that participants have been playing for at least 2 years and have a reasonable understanding of their instrument. The majority of learning will be done by ear, so there is no need to read notation, although sheet music will be provided for certain players on occasion should it help their understanding of the material.
To get a flavour of our workshops please watch this short film which documents the Academy's first year: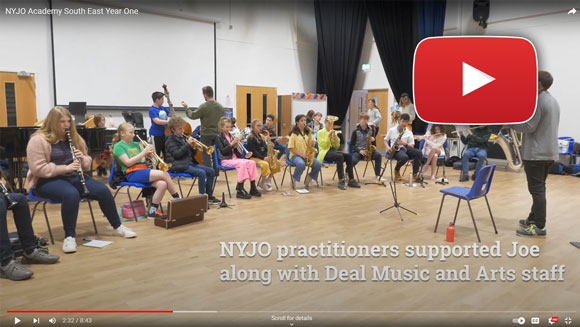 Who leads it?
The workshops are led by experienced musician and NYJO Associate Educator, Joe Browne, with the help of an outstanding tutor team of ambassadors from the National Youth Jazz Orchestra.  Joe is a musician, composer and workshop leader, based in London. Having studied jazz saxophone at Birmingham Conservatoire and Berklee College of Music, he now enjoys a busy schedule on the London music scene. As an educator, Joe is known for his jazz and creative workshops. He regularly delivers projects for the likes of Trinity Laban Conservatoire, The Philharmonia and The London Philharmonic Orchestra. Since 2018 he has been an Associate Educator for the National Youth Jazz Orchestra (NYJO), leading their Cumbria, Lancashire, Hull and now, South-East regional academies. He is musical director of the jazz programme at Deal Music and Arts, delivering their Jazz Journey project and the Creative Jazz Weekend.
Where?
Goodwin Academy, Hamilton Road, Deal CT14 9BD
Academy dates for 2022/23:
Tuesday 25th October 2022
Saturday 19th and Sunday 20th November- Creative Jazz Orchestra Weekend at The Astor School, Dover
Wednesday 15th February 2023
Tuesday 4th April 2023
Tuesday 30th May 2023
Saturday 8th July 2023 Workshop and Performance
Registration for workshops is from 9.30am for a 10.00am start.
Families and friends are invited to an informal performance at 3.30pm with the workshop finishing at 4.00pm.
In addition to the regular local workshops, it is hoped that there will be an annual opportunity for all the NYJO regional academies to collaborate at a residential summer school, involving group workshops, performance opportunities, jam sessions and tutor concerts.
How can I find out more or get involved?
Contact Deal Music & Arts:
cathy@dealmusicandarts.com